The Swedish winters are cold. Very cold. That in combination with the many lakes that the country knows makes it a mecca for skaters. Many skaters from all over Europe go to Sweden in the winter in search of the perfect ice. How do you plan a successful skating holiday to the north?
"Sweden boasts an abundance of stunning locations to enjoy ice skating on natural ice – from the serene, expansive lakes in the north to the more accessible and equally enchanting spots close to Stockholm."
Experience the magic of Sweden's frozen lakes and rivers as you glide gracefully over their icy surfaces during the cold winter months. Ice skating on Swedish natural ice offers a one-of-a-kind opportunity to immerse yourself in serene snow-covered landscapes, as you navigate the smooth and mirror-like ice. In this ultimate guide, we'll provide you with crucial information, insights, and tips to help you plan your unforgettable winter adventure.
How do you get there?
That is the first question that starts a Sweden winter trip. Flying via Trondheim or Stockholm is the most convenient, renting a car (with good winter tires) is of course possible at the airport. There are a few places where you can go without a car, for example Sigtuna, 12 kilometers north of Stockholm. There you can find perfect ice and cute houses to stay near the lake.
The ice rink is often maintained by the municipality. Sometimes there is also the possibility to drink something warm.
Close to densely populated areas, you are more likely to find a well-maintained ice rink. For example, the ice is kept snow-free in a number of places so that skaters can walk on it. There are also special trips organized at a number of places where you can make a trek between different places. In the meantime, your luggage will be transported for you. In the evening you can warm up comfortably by a fire.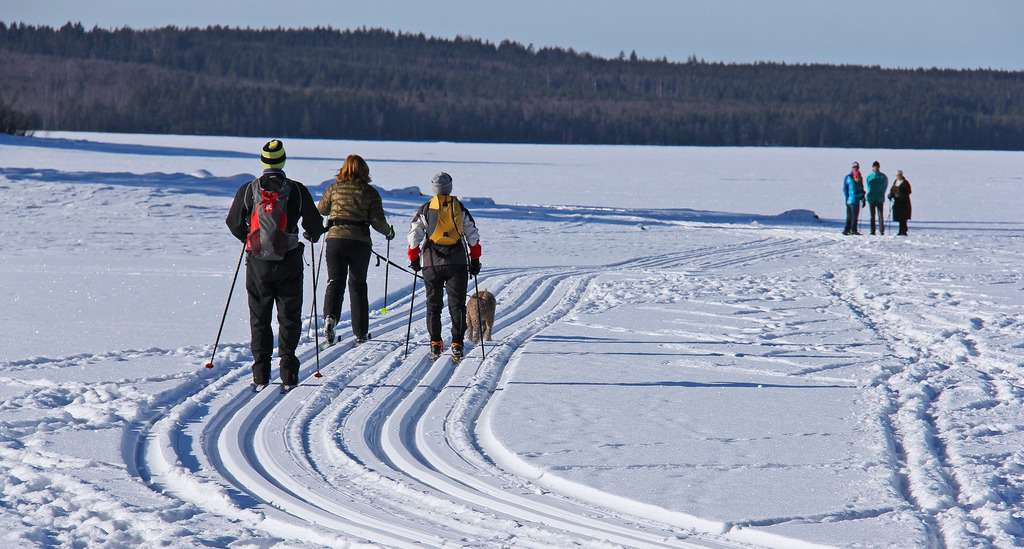 Who is it for?
Skating in wintery sweden is not for everyone. The circumstances can be very harsh, and on some parts of the route you are completely dependent on yourself. Skating on the Swedish lakes is therefore not reserved for beginning skaters. Only experienced skaters with many kilometers behind them are suitable for making skating trips. You can, however, take a guided tour or follow a course in advance to appear well prepared on the ice.
"Ice conditions can vary greatly between locations and from day to day, so it's important to stay updated on the latest conditions through official resources, local authorities, or specialized tour operators."
Skating remains one of the most beautiful ways to discover wintery Sweden. The many lakes make it possible to make beautiful hikes and many villages and towns can also be reached by skate. For those who come well prepared on the ice, it is a unique experience that you will not soon forget.
Safety precautions for natural ice-skating
Ice skating on natural ice always comes with inherent risks. To have a safe and enjoyable experience, it is essential to be prepared and take some important precautions. Firstly, make sure to check the thickness and quality of the ice before skating. The ice needs to be at least 10 cm (4 inches) thick to support a skater's weight safely. Additionally, keep an eye out for cracks and uneven surfaces on the ice, paying particular attention to areas near the shoreline or where currents exist.
"Safety is paramount when ice skating on natural ice; consider joining a guided tour led by experienced local experts and never venture out onto the ice alone."
To enhance your safety, consider joining a guided tour or ice-skating excursion led by experienced local experts. Not only will they be knowledgeable about the best spots and optimal ice conditions, but they'll also provide essential equipment such as ice skates and safety gear. Moreover, never venture out onto the ice alone; having a companion can be a lifesaver in case of emergencies.
Embrace the magic of Sweden's frozen wonderlands and make memories that will last a lifetime. With thorough planning, awareness of safety measures, and your spirit of adventure in tow, you'll be well on your way to an unforgettable experience on the natural ice.
Last Updated on April 1, 2023