It is one of the most famous rocks in Norway: Preikestolen or Pulpit Rock. This unique rock towers over a height of over 600 meters perpendicular to the Lysefjord near the city of Stavanger. It is like a pulpit; a straight boulder that provides an impressive view, as well as great photos of you at the Preikestolen. But watch out, because one gust of wind and you are downstairs. There are no fences and you will not be the first to try a little too heroically to make that cool selfiee. But that makes Preikestolen so cool!
How to get there?
To get to the top of Preikestolen you will have to work a little sweat. In about two hours you can walk the beautiful route up. The path is good, but there is quite a difference in height. However, you will be rewarded with beautiful nature along the way, beautiful views and a bizarre experience at Preikestolen.
Preikestolen has been named one of the most beautiful views in the world by CNN and Lonely Planet.
The walk is about eight kilometers and it is advisable to set aside at least four hours for the walk. Start on time, preferably in the morning, so that you have enough time. The way back is a lot faster than the way there, since the route to the enormous rock mainly goes up. When you get there, take a break, drink water, eat something and take endless photos. Don't wait too long, because you can cool down too much.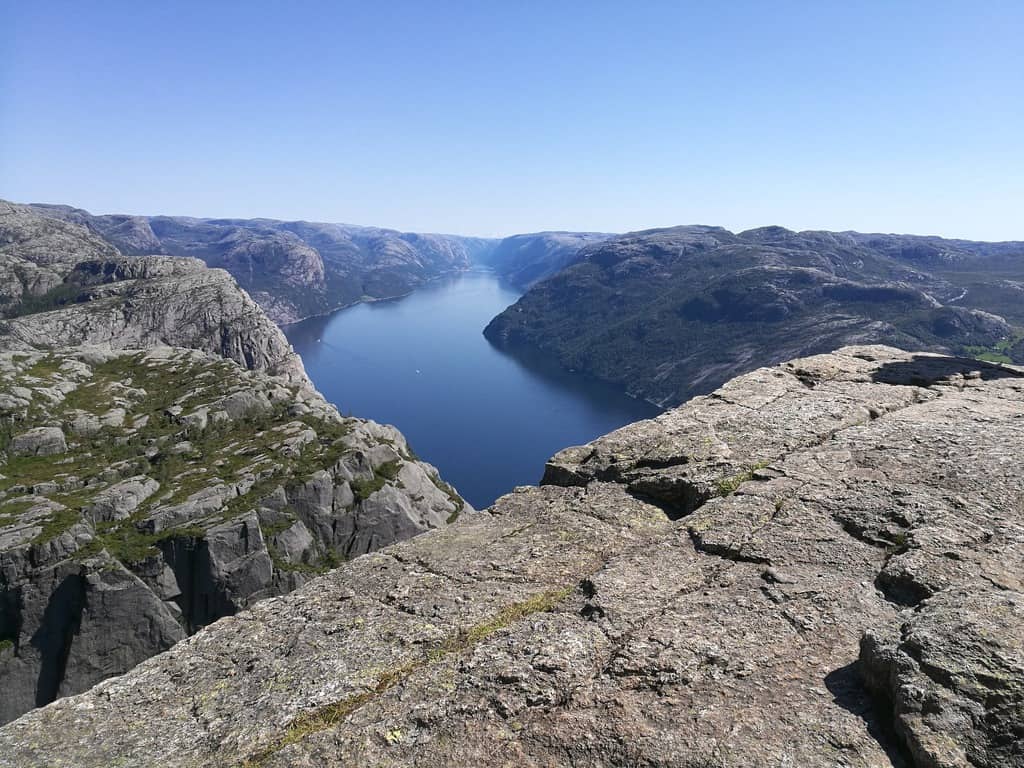 The early hike
With over 200,000 walkers a year, Preikestolen is the most popular hike in Norway. So it can get busy here. And then the magic is gone. But there is an alternative. A very good alternative. There is a so-called "sunrise hike", where you can experience the sunrise on the Preikestolen. Even when it is quite cloudy, which can give an extra dimension to your visit. The path is well marked, so you do not need a guide, but that does not mean that you have to start well prepared for the walk. Think especially of the right clothes and plenty of food and drink.
Safety first at the Pulpit Rock
Although it is one of the most popular tourist destinations in Norway, you will not find a fence on the edge of the giant boulder. To prevent enthusiasts from disappearing into the depths and taking a dip in the fjord, the Norwegian tourist office has made the following video. A must for anyone who wants to visit the Pulpit Rock in a safe way.
Last Updated on May 13, 2019