Snorkeling in Iceland may not immediately sound very attractive, but it is a unique experience that you do not want to miss. Silfra is the name of a gap in the earth created by the separation of the North American and Eurasian tectonic plates. The Silfra gorge is filled with glacier water that has been filtered underground for decades by hardened, porous lava rocks. This makes this the purest and clearest water in the world that reveals an enchanting underwater world with colors that you don't see above the surface. In the water that is around 2 degrees, you have a view of up to 120 meters! Fortunately, you wear a dry suit so that you stay dry and do not freeze immediately. Would you like snorkeling in Iceland to be a great challenge?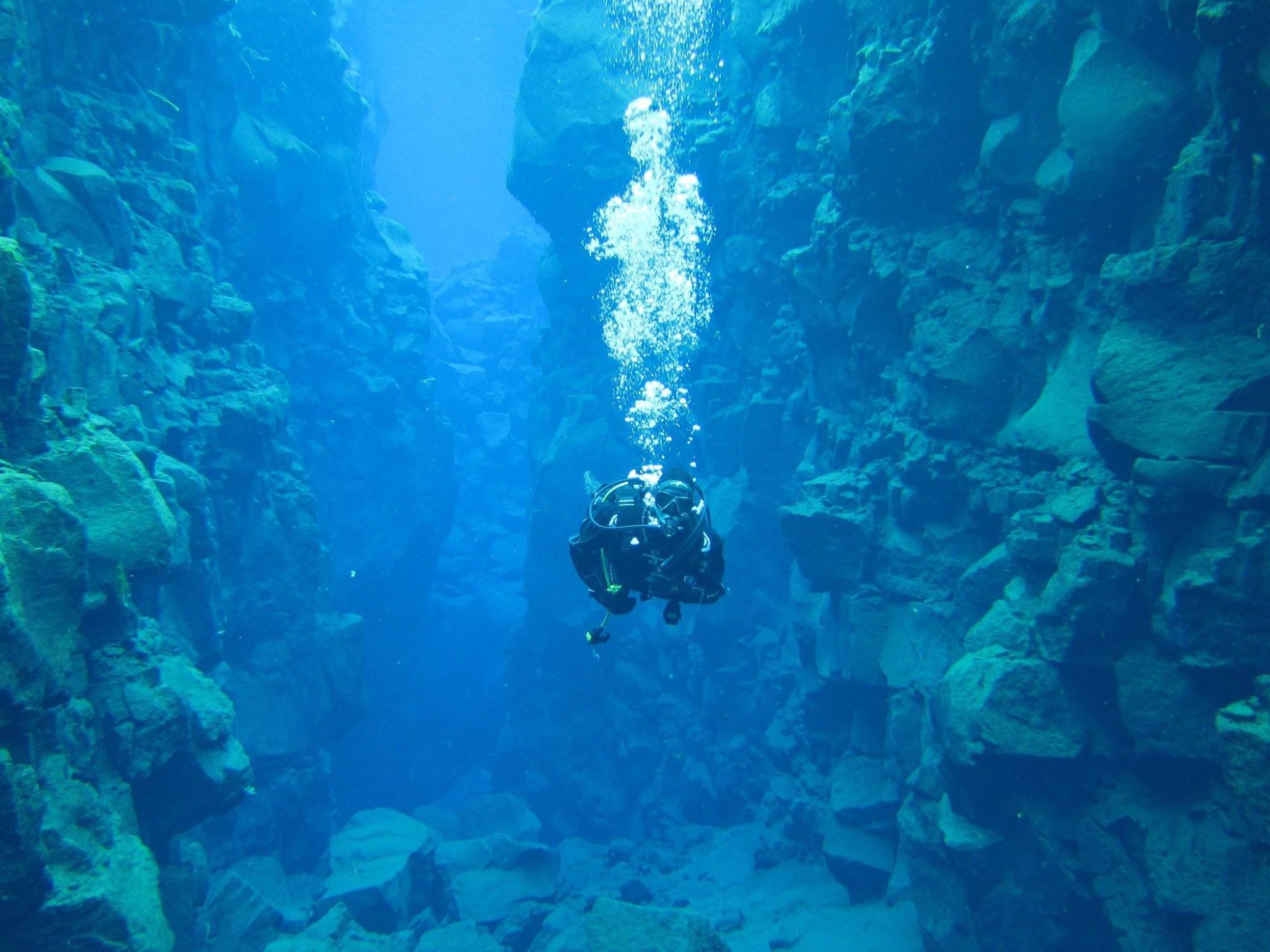 In Iceland you might not immediately think of ultimate diving locations. Iceland, however, has a dive spot that for years has been seen as one of the most beautiful in the world. In the beautiful Thingvellir national park (þingvellir) lies the large þingvallavatn lake. Exactly below this lake the tectonic plates of the European plane and the American plane come together. Here you will find perhaps the largest (hidden) pearl of Iceland, diving or snorkeling at the crystal clear Silfra. Silfra is a tube and cave system that lies in the lake. So you can also experience the beautiful nature of Iceland under water.
Diving at Silfra is fantastic. The diving conditions are great – apart from the cold water – with visibility up to 100 meters. In comparison, Bunaken Marine Park in Indonesia is seen as a dive site with fantastic visibility, and there you have no more than 50 meters visibility during a dive under the very best of circumstances. 100 meters visibility is phenomenal. Silfra has hardly any current, but enough that the lake does not freeze in the winter. This makes Selfra a diving spot that can be visited all year round (even during the coldest days of the year). Because diving in Iceland is a fairly exclusive affair, you often do not encounter that many other divers.
This is where the tectonic plates of Europe and North America meet each other.
You dive into water that is around 2 degrees cold, sometimes even colder. This is of course slightly different than the average waters or the wonderfully warm water in tropical destinations. You dive in Iceland in a dry suit with an insulating jumpsuit underneath. You also wear long underpants and thick, warm socks under all this. The gear from the diving schools in Iceland are of very good quality (all as good as new). You end up fully packed (you walk like a Michelin man) into the ice-cold water, but except for your face you hardly notice it.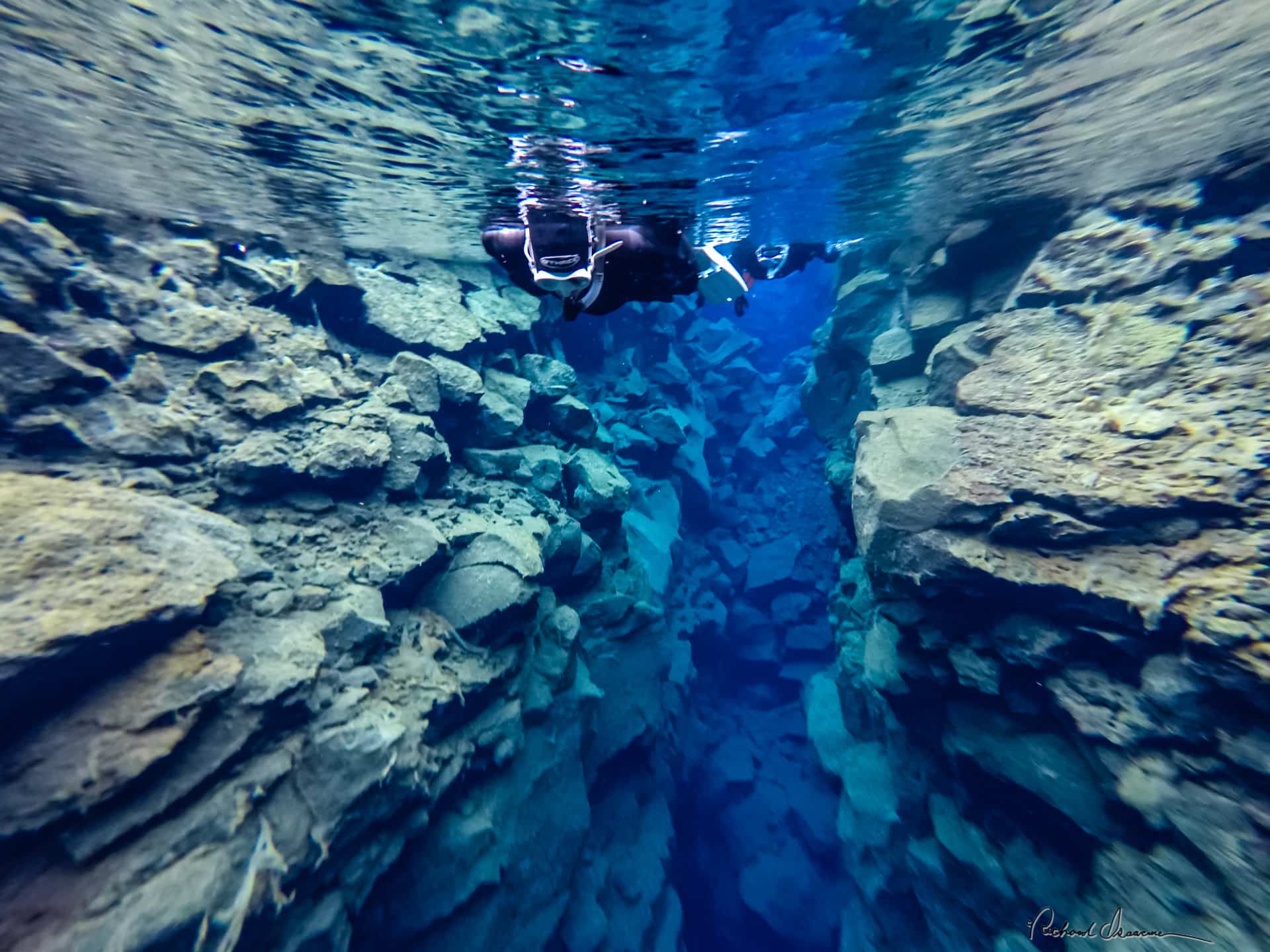 There are several diving schools in Iceland. Most of these operate directly from Reykjavik. They pick you up at your hotel or guesthouse and take you to Thingvellir National Park for the 2 dives you will do during the day. Depending on the time of year, you will be picked up at your accommodation early in the morning. You will then drive to the Thingvellir Nature Park in about an hour while on the way you get an explanation of the park, the area and the upcoming dive. Once at the park the dive briefing starts. From that moment on everything is devoted to the next 2 dives. After the first dive you have a short coffee or tea break. After the 2nd dive you will be dropped off at your hotel or guesthouse, usually around 3 o'clock in the afternoon.
This is therefore a unique place on earth. And Icelanders love extreme excursions, so they came up with this. Although the water is very cold, you naturally get warm inside.
Diving at Silfra is really magically beautiful. It is an absolute highlight of a trip to Iceland and not many others will have imitated you. For many divers, diving in the Netherlands sometimes gives rise to a frown, diving in a country like Iceland is completely incomprehensible to many. Yet it is a wonderful experience that you will not soon forget. The enormously clear water, the rough bottom, the diving between the fault line makes it all very special.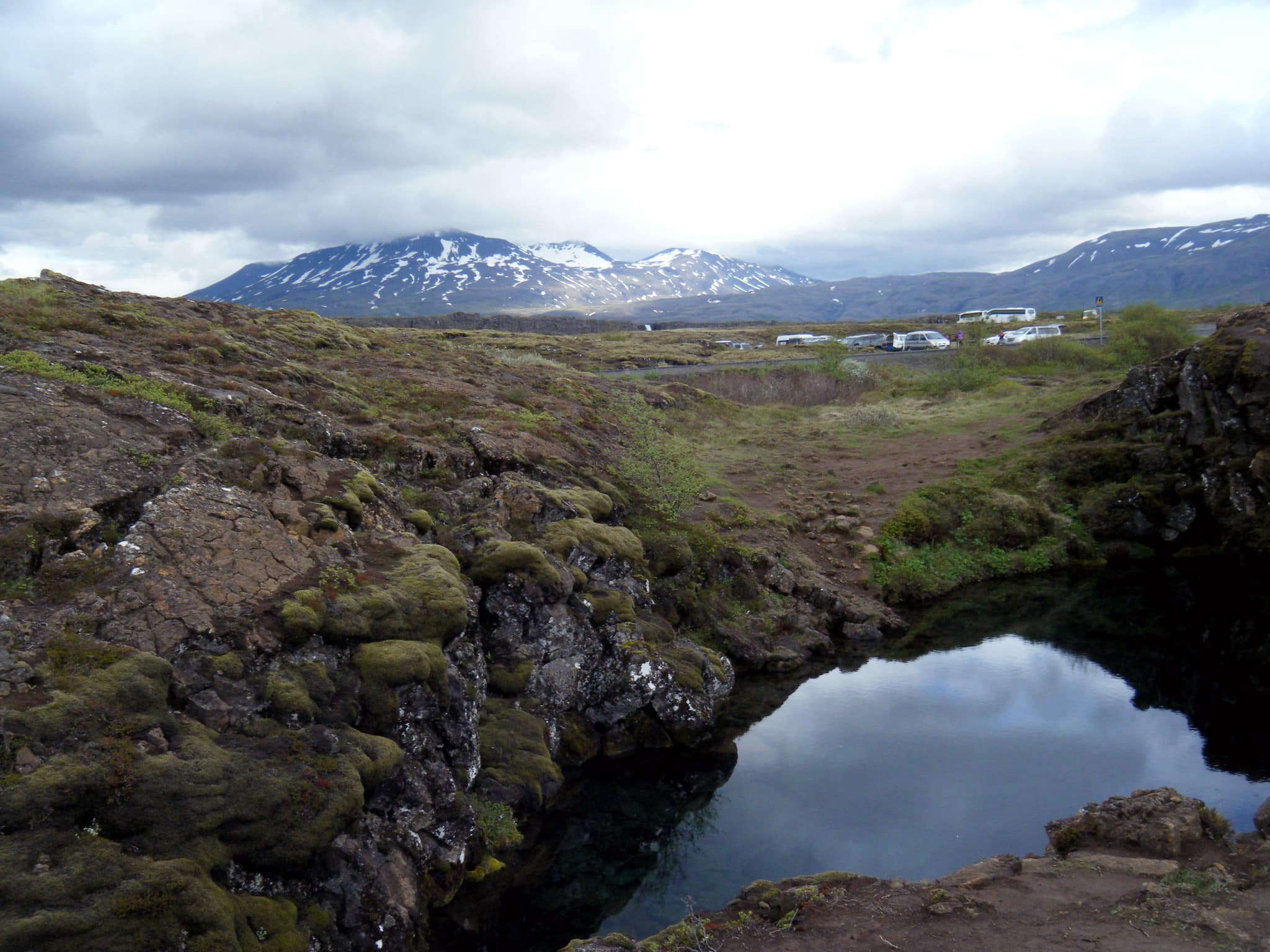 A dive tour at Silfra usually costs around € 225 per person. This includes transport, lunch, equipment, briefing, park entrance and diving photos and / or videos afterwards. If you are already staying close to the Thingvellir nature park, you must travel to the dive spot on your own; which saves a few thousand crowns per person. You can read various reviews, and there are also various other online sources with especially breathtaking photos that will get you in the mood. If you dive with great pleasure anytime and anywhere, don't miss the opportunity to dive in Iceland!
You are allowed to dive at Silfra on your own. However, you must purchase a permit in advance at the Thingvellir Service Desk. Divers must always follow the rules. You are not allowed to dive alone, you are not allowed to dive in caves. You are also not allowed to dive deeper than 18 meters. You can rent a tank at the diving schools. You can also rent a dry suit here, if you don't have it yourself.
Last Updated on October 23, 2019