Discover the landscape of Sweden in a very traditional way: with a Husky Tour. You set off with enthusiastic huskies, who pull you through a white fairy-tale world. An amazing experience! Husky tours are especially possible in the more northern areas of Sweden.
The husky tour takes you over large frozen lakes, through deep forests and vast plains. During the trip you only hear the sound of the dogs and the gliders below you. A very special experience, and not to be missed by anyone who loves the outdoors and the winter. The dogs are very enthusiastic and easily pull you through the snow.
You will not find a more Scandinavian way of moving yourself around than with a husky sledge
Where to book a Husky Tour
Throughout northern Sweden you will find special farms where huskies are bred and cared for. These farms also organize the tours, whereby the entire experience is arranged for you.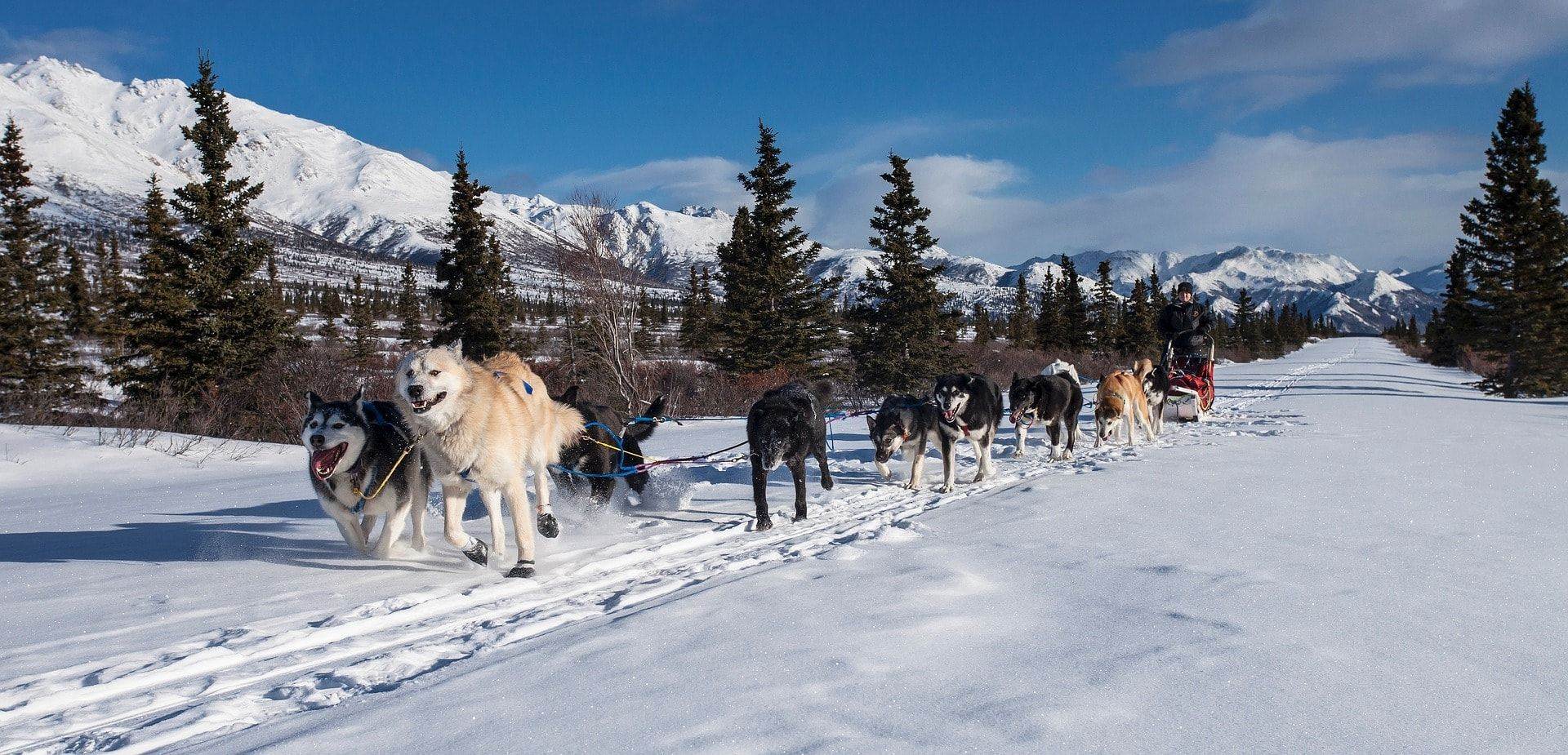 The farms offer safaris with a duration of 1 hour to a week. The duration is different per farm, so check carefully where you want to do the safari. Please note, the duration includes the straining of the dogs and dressing yourself. During the safari you often get special thermal clothing, boots, gloves, a hot drink and a local snack. There is also a guide who will guide the husky safari through the wilderness. Upon arrival, the dogs will be waiting for you and want nothing more than to go out together through the snow and the wilderness. After a clear explanation about the dogs, the sleds and how to deal with the dogs, you will be assigned to a team (of 2 people) before you go into the cold, clear environment with the group. In the beginning the dogs will bark a lot, but gradually it will become quieter and apart from their breathing you will only hear the snow under the sleds.
Due to the lack of any kind of mechanical propulsion, peace and quiet comes over you during a sled trip
How to prepare for a Husky Tour
You don't have to take clothing into account, many of the preparations are done by the organizer. We are good at putting on a number of basic layers, for example two layers of thermal shirts and thermal pants. If you travel around Lapland in the middle of winter, these items are probably already in your gear. A husky tour in the north of Sweden is a fantastic way to experience nature in winter and to combine this with the Scandinavian culture that huskies have been part of for centuries.
Last Updated on September 22, 2019