Nestled on Sweden's enchanting west coast, Fjällbacka is a charming fishing village that captures the heart of every visitor. It boasts a rich history, captivating coastal landscapes, and a unique atmosphere that has attracted artists, writers, and royalty over the years. In this article, we'll take you on a journey through this enchanting village, exploring its iconic landmarks, cultural offerings, and must-visit spots.
"Fjällbacka is more than just the serene landscapes and iconic landmarks; it is a destination full of incredible hospitality, rooted in history and adorned with coastal charm."
Fjällbacka is a picturesque coastal town with 812 inhabitants in western Sweden, less than a 1.5-hour drive from the beautiful city of Gothenburg. The small seaside village belongs to the municipality of Tanum, in the province of Västra Götalands län. Fjällbacka has become enormously popular among tourists in recent years.
"Fjällbacka, a charming fishing village where captivating coastal landscapes and a rich history create a unique atmosphere that has drawn artists, writers, and royalty throughout the ages."
This picturesque fishing village has a lot of atmosphere. The wooden houses, the water and the beautiful mountain Vetteberget make Fjällbacka a popular tourist village in Sweden. The popularity is partly due to writer Camilla Läckberg and her books that take place in the vicinity of this fishing village. Many tourists come to this popular, idyllic village every year. What makes it so touristy? What is there to do in Fjällbacka? Are there special routes around the most important places in the books of Camilla Läckberg? Where can I spend the night in Fjällbacka? What are the best sights? Read all about the picturesque town of Fjällbacka in Sweden here.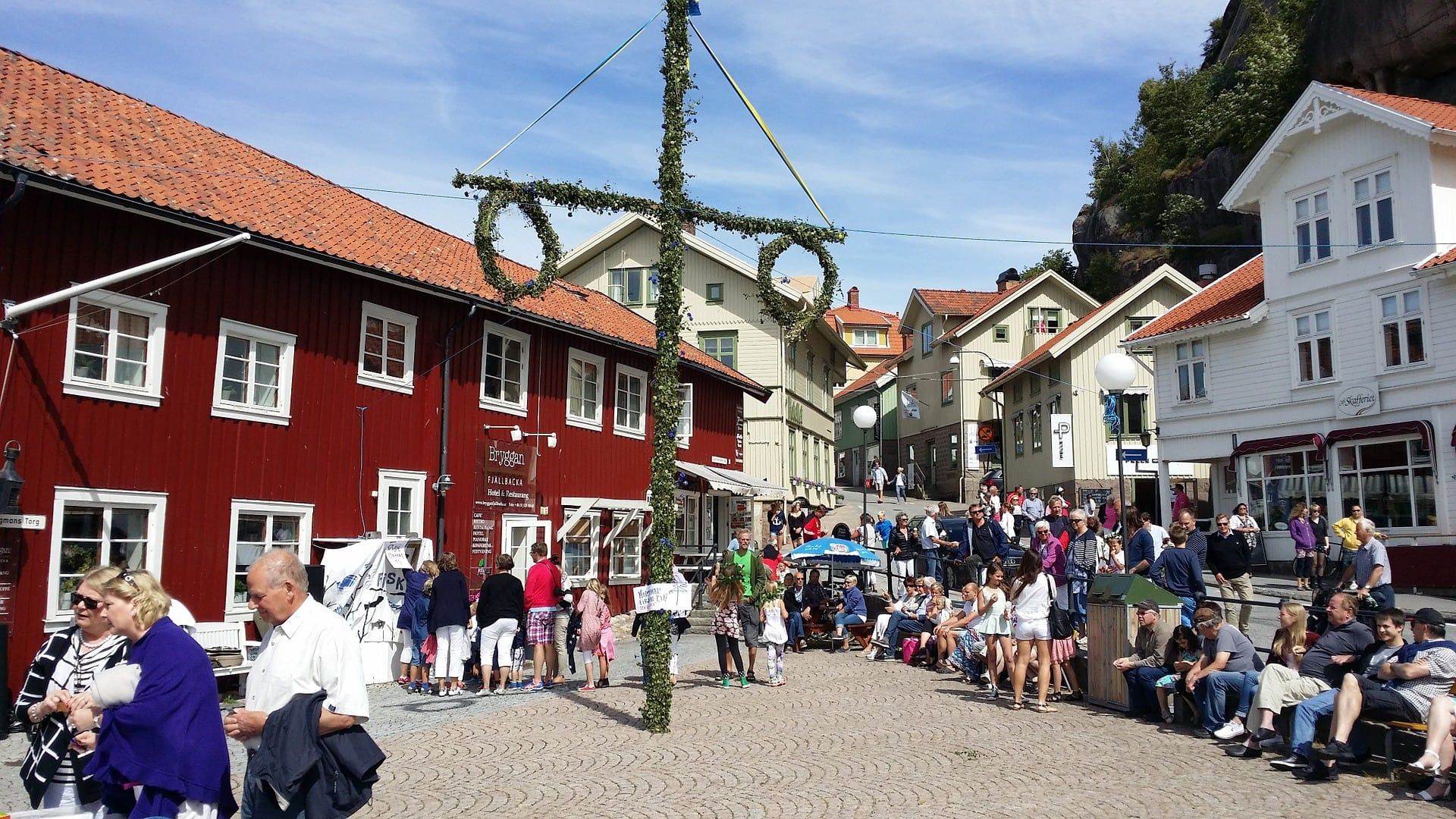 What to do in Fjällbacka?
In the beautiful village of Fjällbacka there is plenty to do.
If you look around you, you immediately see the Vetteberget. From the top of the mountain you have a beautiful view of the city and all the islands around it. Vetteberget is divided into two parts: Stora (large) and Lilla (small). Between Groot Vetteberget and Klein Vetteberget is the Kungsklyftan gorge. This gorge has huge pieces of rock sandwiched like a roof.
Fjällbacka has a beautiful, cozy harbor where you can walk through. It is very busy in the harbor, especially in the summer. On the terraces around the harbor you can relax and enjoy a nice drink. Take a fishing boat from the harbor and catch your own fish or lobster that you can eat later that day!
From Fjällbacka it is possible to kayak along seals and other marine animals, an unforgettable experience
Walk through the beautiful nature in the surroundings of this picturesque village.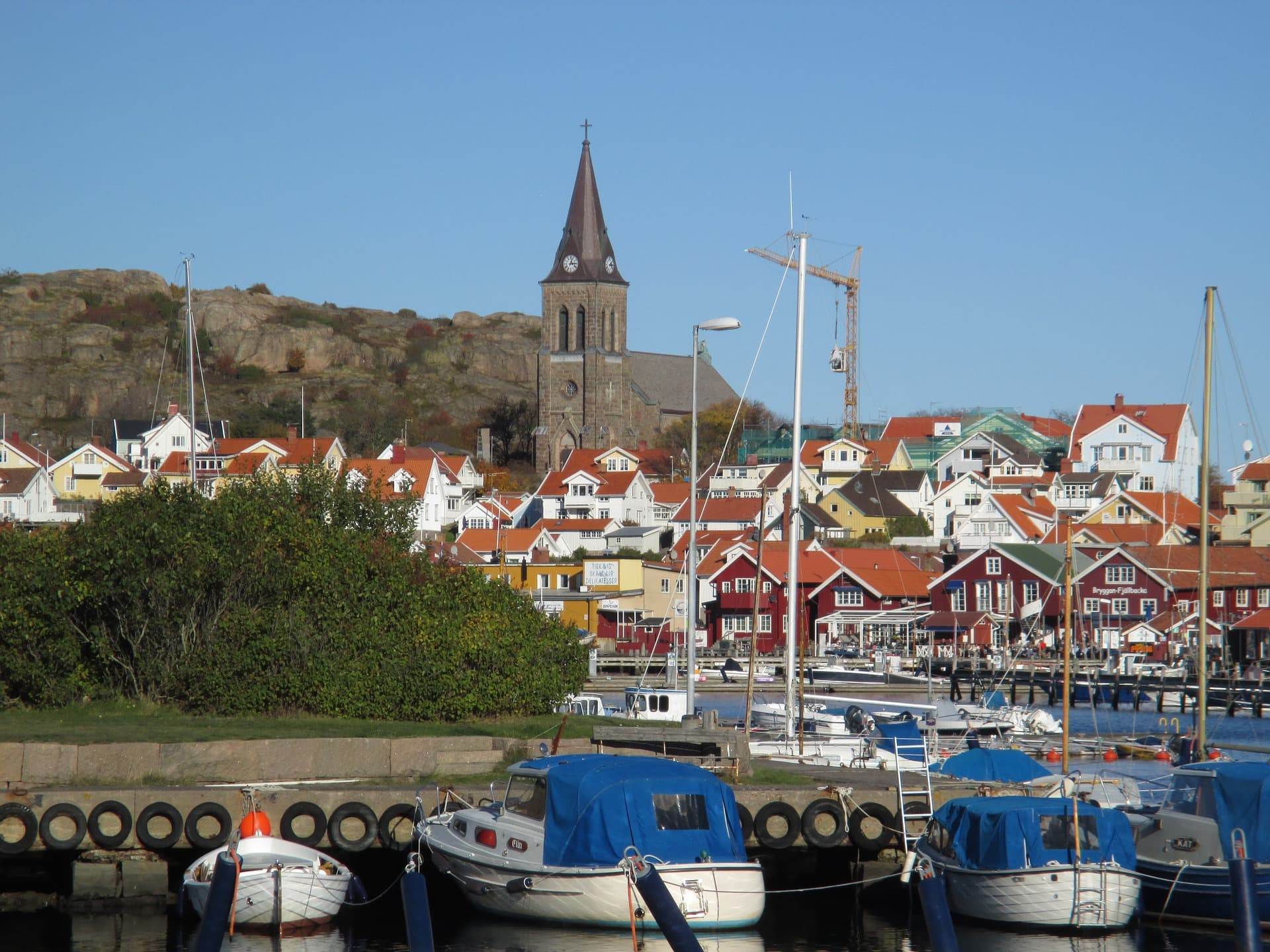 The Enchanting Archipelago of Fjällbacka
Fjällbacka owes much of its allure to its breathtaking archipelago. The village stands on the edge of a fascinating maze of thousands of islands and islets, which not only provide a picturesque backdrop but also grant visitors ample opportunities for exploration. The region supports a vibrant ecosystem teeming with marine wildlife and native flora, offering nature enthusiasts unforgettable experiences both on land and at sea.
"Discover a fascinating maze of islands and islets in Fjällbacka's breathtaking archipelago, a sanctuary for native flora and marine wildlife that provides ample opportunities for exploration and adventure."
Taking a guided boat tour is one of the best ways to navigate through the archipelago and uncover the many secrets it has to offer. Tour operators provide an array of options, from leisurely sightseeing tours to adrenaline-pumping RIB boat rides. Kayaking is another popular choice for those who want a more intimate connection with the surrounding nature. If you're up for land adventures, numerous marked walking trails lead through the coastal landscape revealing spectacular viewpoints and hidden gems.
Stay the night in Fjällbacka
You can spend the night in Fjällbacka at different locations. There are holiday homes, apartments, bed and breakfasts and hotels in Fjällbacka in all price ranges. From cheap hostels or a cheap youth hostel to a luxury suite in a chic hotel. Please note that it is a tourist village. Certainly in high season it is busy and several hotels in Fjällbacka are full. Plan your overnight stay on time, or consider reserving an overnight stay in the area.
During the summer months you can go on a lobster safari with local fishermen. Catching, preparing and (naturally) eating you all do it yourself.
Prefer camping? Camping Fjälbacka is approximately 1 kilometer outside of Fjällbacka. You can go to this campsite with the tent as well as with a caravan or camper. The campsite is located on the Bohuslän Coast, where you can swim in the sea! In addition to a large camping field, the campsite also rents out cottages where you can spend the night.
Boat trip to the islands of Väderöarna
During a boat trip to the Väderöarna archipelago you will enjoy all the splendor that the shaving coast has to offer. Once you have arrived in the harbor near the hotel / restaurant Väderöarna Värdhus you can explore the unique surroundings via a mapped out walk. Ask for the way to Lotsutkiken, a watchtower where you can look very far in good weather.
The Swedish west coast of Bohuslän is Sweden's favorite holiday destination, and that is not surprising.
Satisfy your appetite with an excellent lunch or dinner prepared on site and with local ingredients in Väderöarna Värdhus. You can visit this bald island group by boat all year round and Väderöarna Värdshus is also open all year round. At the end of the day you choose to take the boat back to Fjällbacka or Hamburgsund or maybe you book a room in the hotel to spend the night on this island on the Swedish west coast.
Beyond its serene landscapes and renowned landmarks, Fjällbacka is a gem of a destination characterized by its incredible hospitality, rich history, and the irresistible appeal of its coastal charm. A visit to this picturesque fishing village is guaranteed to weave a tale bound in culture, heritage, and natural wonder that will entice you to return time and time again. So prepare yourself to be captivated by the magic of Fjällbacka and let the village's spirit sweep you away on a Swedish coastal adventure like no other.
Last Updated on April 1, 2023