Want to be one with a green environment and a camping holiday in the pure and unspoilt nature? Then consider a camping holiday in Iceland. Camping here is a bit back to basic! The nature in Iceland is overwhelmingly beautiful and there are numerous locations where you can camp at the most beautiful places, next to impressive waterfalls, enchantingly beautiful glacial lakes or on a vast plain. What do you need to know about camping in Iceland?
In Iceland you have more than 100 registered campsites, they are often indicated on signs with "Tjaldsvaedi". The majority of this is open between the beginning of June and mid-September, depending on the location. Staying at a campsite is affordable, an overnight stay costs a maximum of €10 per night.
Camping in iceland
Campsites in Iceland are usually a bit sparse, so you should not count on ultra-luxury camping parks as we know them in France and Spain. A campsite in Iceland is usually no more than a place where you can pitch the tent. Often there is no hot water, no electricity, and you cannot shower there either. Fortunately, there are plenty of pools (sometimes free, and sometimes on the campsite itself) and hot springs where you can bathe, so it is convenient to find a campsite in the immediate vicinity of a pool. Incidentally, Iceland has hardly any trees, and especially at the campsite you notice that a little shelter would be handy. In that case, place the car next to the tent, so that you can sit a bit out of the wind (and cook more easily, for example).
Camping in Iceland is adventurous, great fun and cheap.
Campsites in Iceland often have Wi-Fi that guests can use. You can also arrange tours at the campsite to explore the area. The campsites are often close to various beautiful attractions and sights. You can also often enjoy the most fantastic view directly from the campsite.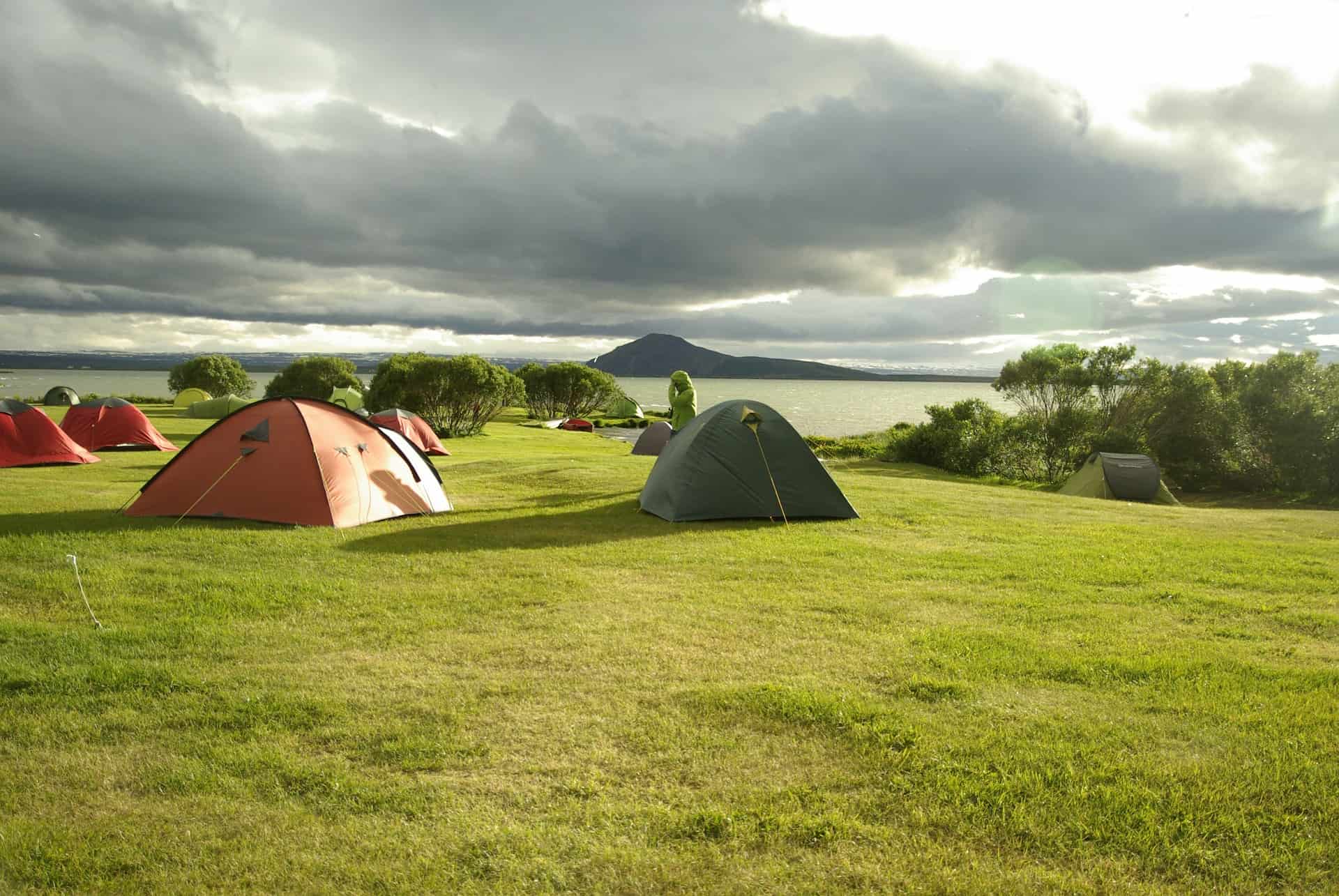 Rent camping gear in Iceland
If you don't want to carry too much on your way to Iceland, you can consider renting camping gear on the spot. There are various owners of things that come in handy during a trip through Iceland. For example, you can rent tents, cooking sets, sleeping bags, cookware and tables & chairs for reasonable prices at Iceland Camping Equipment. It goes further than just camping gear. You can also rent things like GPS, telephone with local SIM card and much more.
Good equipment is half the success of a camping trip in Iceland.
A special brochure about campsites is available free of charge at the tourist information centers in Iceland. On the Nat.is website you will find a lot of information about camping in Iceland.
Due to the high costs of hotels, many tourists choose to camp and enjoy the real nature feeling that you get in a tent … There is no better way to really feel Iceland in all its glory. Wake up in the morning, step out of your tent and be amazed by an enchantingly beautiful landscape.
Last Updated on May 23, 2019